BOARD OF DIRECTORS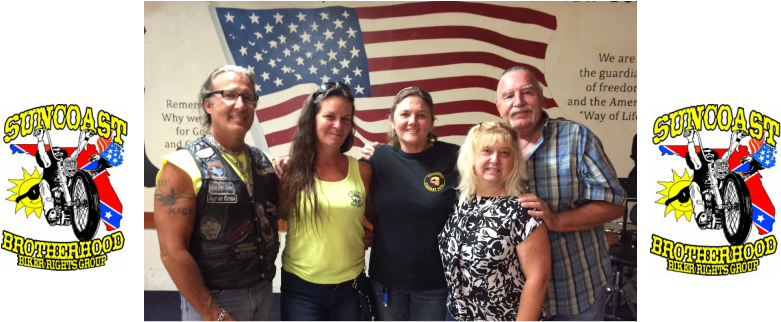 ---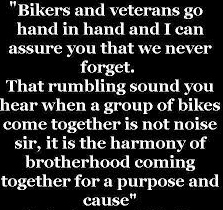 ---
SUNCOAST BROTHERHOOD - PASCO CHAPTER


Suncoast Brotherhood is a biker rights group. An independent organization dedicated to the rights of ALL motorcyclists, we are willing to take legal action to win our cause. Suncoast Brotherhood Biker Rights Group, encourages its members to participate in any and all events/activities they choose. After all, we believe in your right to decide what is right for you ...AT SUNCOAST BROTHERHOOD WE NOT ONLY QUESTION AUTHORITY, WE CHALLENGE IT !!!
BOARD OF DIRECTORS

President:
Jaebird Planchard, jaebird66@yahoo.com
Vice President:
"Granny" DeGrandchamp (727) 808-1528, grannyhd@gmail.com
Sgt. At Arms: William "Tex" McKinney, (727) 946-5412, kathytexm@aol.com
Secretary:
Dawn Thomas DiBacco (727) 645-9298, DawnDiBacco@yahoo.com
Treasurer:
Linda Maslowski, stressedoutblond@gmail.com
TRUSTEES


Products:
Anna Creed , (727) 237-7428,
Anna.creed24@yahoo.com
Public Relations:
Anna DeGrandchamp , (727) 389-8810, annaandretti@gmail.com
Membership:
Kathy McKinney, kathytexm@aol.com
Chaplain
:
Janet "Squeeze" Blydenbugh , aplace4usalon@gmail.com
Legislative:
John "Pepper" DeCuzzi (727) 600-3107, dqzv@live.com
Webmaster:
Bob "Sunstrip" Charlebois (727) 860-5505, scbhpasco@yahoo.com
Safety Director:
Mike Noonan, (727) 364-0967 mslknoonan@hotmail.com
MONTHLY MEETINGS
General Membership Meeting:
First Tuesday of every month. Time: 7:00 p.m.
OUR MEMBERSHIP MEETINGS WILL NOW BE SMOKE FREE !!!
NO SMOKING ALLOWED IN THE MEETING AREA
DURING THE MEETINGS !!!
Board of Directors Meeting:
Last Tuesday of every month. Time: 7:00 p.m.
Location:
VFW Post 6180,
11551 Osceola Drive,
New Port Richey, FL, 34654
ANNUAL EVENTS
Chili Cook-Off
Meet & Greet
Broke Bums Poker Run
Christmas In NovemberSuncoast Brotherhood Camp Out
OUR E-MAIL ADDRESS IS: scbhpasco@yahoo.comORbrotherhood@scbhpasco.com
PINELLAS CHAPTER WEB SITE
Please Click

---
If you haven't already, as a member of the Pasco Chapter, you must provide us with an e-mail address, this is not only to keep you up to date on events and news, but it is also needed for your yearly membership renewal !!! So please send your e-mail address to scbhpasco@yahoo.com or brotherhood@scbhpasco.com !!!
If your not a member and still want to be included on our mailing list, feel free to sent us an e-mail also, we will be glad to add you !!!
Also remember to check your spam folder for any e-mails from us, and to be sure to mark us as
"not spam"

Thanks !!!